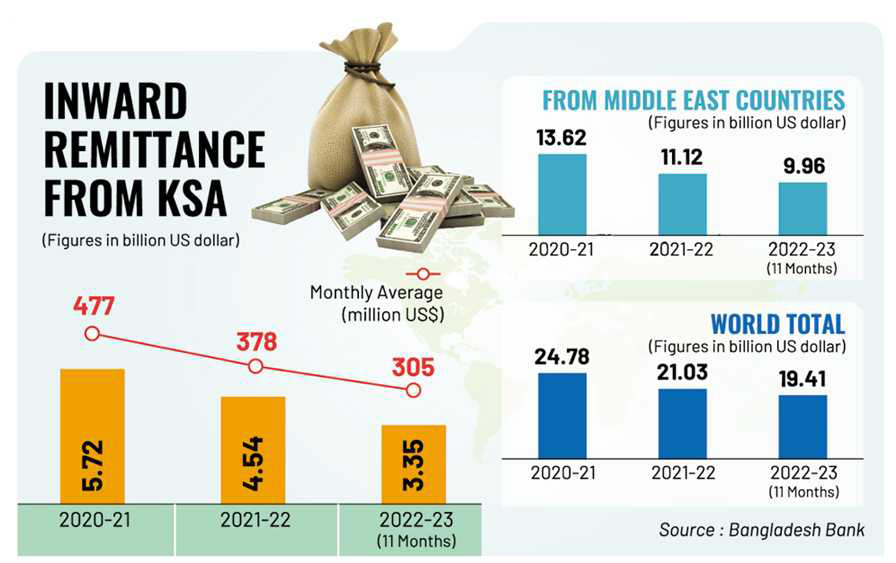 Inward remittance from the Kingdom of Saudi Arabia (KSA) has been on a downturn for the last two fiscal years from its recent peak registered in FY 2020-21 despite a substantial rise in the labour migration to the major job market in the Middle-East.
Huge job losses and consequent return from the country's largest overseas job market might have substantially cut the inflow of remittance, according to economists and migration experts.
Besides, they said, sending home wage earners' remittance through informal channels or hundi might have increased, causing the ebb tide in remittance inflow, at a time when the country is struggling to meet foreign-payment obligations.
They suggest interrogating those ones involved in hundi business and verifying information provided by the mobile financial service providers such as Nagad and bkash to check whether the data are reflected properly. They also stressed ensuring migration of skilled workers.
Bangladesh Bank (BB) data show that the expatriates in the KSA sent home US$5.72 billion in remittances in FY '21, a monthly average of $477 million, registering the highest amount in recent years.
Since then, the remittance inflow continued to decline from the KSA.
Though the KSA scenario is little different from other countries due to increased rate of returnees, the remittance inflow from other middle-eastern countries as well as from across the world also continued to decline during the period under review.
Bangladesh sent 653,443 workers to KSA in FY '22, three times higher than 217,108 who went there in the COVID-hit FY'21, according to Bureau of Manpower Employment and Training (BMET) statistics.
Dr Khondaker Golam Moazzem, research director at the Centre for Policy Dialogue (CPD), said that instead of taking the matter lightly, it is necessary to interrogate those who are involved in hundi business and freeze their account if found guilty.
"It is also important to verify whether remittances sent through mobile banking channels such as Nagad and bkash are properly reflected to the official channels or not," he said.
He suggests increasing incentives for the remitters to at least 3.0 per cent from the existing 2.50 per cent.
Measures should also be taken to reduce the cost of migration as the workers may resort to hundi to cover this cost.
When asked, he said, there is a lot of development work in Saudi Arabia now. "So, the job crisis should not be there. However, many workers returned to the country as they might have been victimized by the frauds."
He also suggests increasing quality migration rather than increasing numbers only.
The latest Sample Vital Registration System (SVRS) data of Bangladesh Bureau of Statistics (BBS) show that three out of every 1,000 migrant workers returned home from abroad in 2022, while this rate was 1.9 in 2021, 1.8 in 2020, 1.9 in 2019 and 1.7 in 2018.
Shariful Islam Hasan, associate director, Migration Programme and Youth Platform at BRAC, said Bangladesh sent the highest 1.1 million workers abroad in 2022 in the last 50 years.
Of them, more than 50 per cent went to Saudi Arabia. But many of the returnees are from Saudi Arabia as they failed to manage jobs there.
"We have seen that in the years when labour migration to Saudi Arabia increases, the return of workers also increases," he added.
Awareness building is very important to stop this flow, said Mr Hasan, adding that the government and recruiters should be responsible for sending workers abroad.
About 100,000 Bangladeshi workers returned from Saudi Arabia in 2022 – 70% from the KSA alone, according to the airport immigration data.
Talking to the FE Md Sujan (29), a migrant worker who returned from Saudi Arabia said he went to the middle-eastern country in August 2022, but returned home in February this year.
"I waited for 7 months to get a job, but my recruiter did not manage it for me," he said.
'The 'Dalal' (middleman) promised me that I would be able to earn about Tk 100,000 monthly with a job as a mason."
He managed the major portion of the migration cost by borrowing money. He spent Tk 550,000 to go to the KSA.
Anwar Hossain (33) and Nayem (23) are now apparently trapped in a room in Dammam since May 26 this year, he informed the FE.
Their recruiter did not provide any Iqama. They are also suffering from sufficient food and water, said Shamsuddin, a relative of the two workers.
"We are trying to get them back home as early as possible as they are suffering a lot," he added.
AA Mamun Nasim, Programme Coordinator, Obhibashi Karmi Unnayan Programme (OKUP), said they were receiving calls from workers who are not getting jobs or returning home on a regular basis.
Job demands and companies should be visited properly by the Bangladesh Embassy in Saudi Arabia before attestation.
However, Ali Haider Chowdhury, secretary- general of Bangladesh Association of International Recruiting Agencies, said it is not correct that many people are returning without getting work or losing jobs.
Some workers were caught by the police for running away from the workplace, and returned home.
He also said that most of the workers go to Saudi Arabia now, so it is not unusual that the number of returnees will be high.
When contacted, Shahidul Alam, Director -General of the BMET, suggested the workers to check job contracts before going abroad. He also said they will look into the matter why the workers are returning home.
Source: The Financial Express