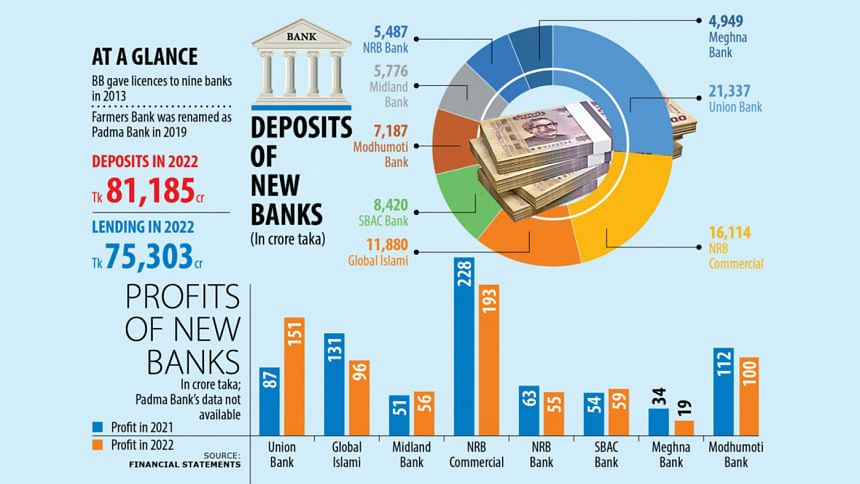 The government awarded licences to set up new nine banks in 2013 despite criticism from analysts and economists and initial reservations from the central bank since the number of lenders was already high in Bangladesh and approvals were largely given on political consideration.  
Today, some of the nine banks — Union Bank, Global Islami Bank, Midland Bank, NRB Commercial Bank, NRB Bank, SBAC Bank, Meghna Bank, Modhumoti Bank, and Padma Bank – are in a good position while some are struggling.
Three banks – NRB Commercial, Union Bank, and Modhumoti – raised their profits above Tk 100 crore in 2022. On the other hand, Padma Bank sank into an accumulated loss of Tk 805 crore.
Most of the new banks are bearing a huge amount of non-performing loans though they are newer compared to second-generation lenders – those receiving licences in 1992-1996 – and third-generation lenders – those that were permitted between 1998 and before 2012.
Padma Bank had the highest NPL ratio of 63.5 per cent owing to massive financial scams. Meghna Bank, SBAC Bank, and NRB Commercial Bank's NPL ratio crossed 4 per cent.
Modhumoti Bank managed to keep the NPL ratio at 1.7 per cent, the lowest among the nine banks.
Padma Bank has not published its financial reports for 2022 yet. The reports for the rest showed that they account for about 5 per cent of deposits and loans and advances in the banking sector, highlighting their struggle to attract customers.
Deposits totalled Tk 81,185 crore at the end of 2022. The total deposits in the banking sector were Tk 15.88 lakh crore.
The new banks have so far lent Tk 75,303 crore whereas the total advances in the banking industry were Tk 13.87 lakh crore.
"There are many unbanked people in Bangladesh, so we have focused on bringing them under the financial system," said Golam Awlia, managing director and CEO of NRB Commercial Bank.
The bank posted the highest profit among the nine, raking in Tk 193 crore in 2022.
"We have disbursed a huge amount of money in the form of micro-loans, which gave us mileage, and the rural economy has also benefitted from it," Awlia said.
He said customers look at reputation, branding and service when it comes to parking deposits and taking loans.
"NRB Commercial Bank has put focus on all of the areas. So, we have been able to collect a huge volume of deposits."
The bank's deposit stood at Tk 16,114 crore last year, the second-highest among the fourth-generation banks.
NRB Commercial Bank has launched some new products, including a special entrepreneurship loan scheme and a house finance scheme for returnee migrants. It has initiated Shariah-based banking in all of its branches.
Union Bank made the second-highest profit of Tk 151 crore followed by Modhumoti Bank's Tk 100 crore and Global Islami Bank's Tk 96 crore.
Meghna Bank's NPL was 6.73 per cent, followed by SBAC Bank's 5.18 per cent and NRB Commercial Bank's 4.69 per cent.
"Most of the NPLs are from the past. Now, we are cleaning books, so the NPL ratio is on the decline," said Sohail RK Hussain, managing director and CEO of Meghna Bank.
The bank logged a profit of Tk 19 crore in 2022.
About the low profit, he said the bank has focused on expanding the book size instead of making huge profits.
"During the pandemic, Meghna Bank followed a conservative growth policy to strengthen the capital base."
At present, the bank's capital adequacy ratio is around 21 per cent, which is one of the best in the entire banking industry excluding foreign banks, he claimed.
Meghna Bank's advance deposit ratio is 72 per cent, so the liquidity position is in good shape, Hussain said, adding that the bank has concentrated on governance and prudent management of business challenges.
Hussain cited that Meghna Bank has not delayed in making payments against letters of credit whereas many banks suffered in recent months owing to the US dollar shortage.
"Our LC confirmation ability has enhanced significantly."
Midland Bank has the lowest NPL ratio of 2.78 per cent.
Salehuddin Ahmed, a former governor of the Bangladesh Bank, alleged that the new banks were given licences on political consideration, so a lack of professionalism can be seen in some of them.
He said almost all of the new banks are running their business like their predecessors and are not going to rural areas and unbanked people.
"Then what new things are they adding? The central bank should work with them so that they can contribute differently."
According to Ahmed, Padma Bank was granted an additional waiver from the central bank and was allowed to keep a lower amount of mandatory liquid assets.
"It has a domino effect."
AB Mirza Azizul Islam, a finance adviser to a former caretaker government, said he has been always against giving licences to new banks since a large number of banks are already operating in the country.
At present, there are 61 scheduled banks in Bangladesh. In the last few years, People's Bank, Citizen Bank, Bengal Commercial Bank and Community Bank have also received licences to operate banking businesses.
"When the number of banks rises, some face problems in attracting deposits and the volume of business also shrinks," Islam said.
"It is a positive sign that some new banks are doing well by making profits and keeping the NPL ratio low."
"If they can keep the NPL ratio in check and provide handsome dividends to shareholders, it will be a huge success for the banks."
Source: The Daily Star