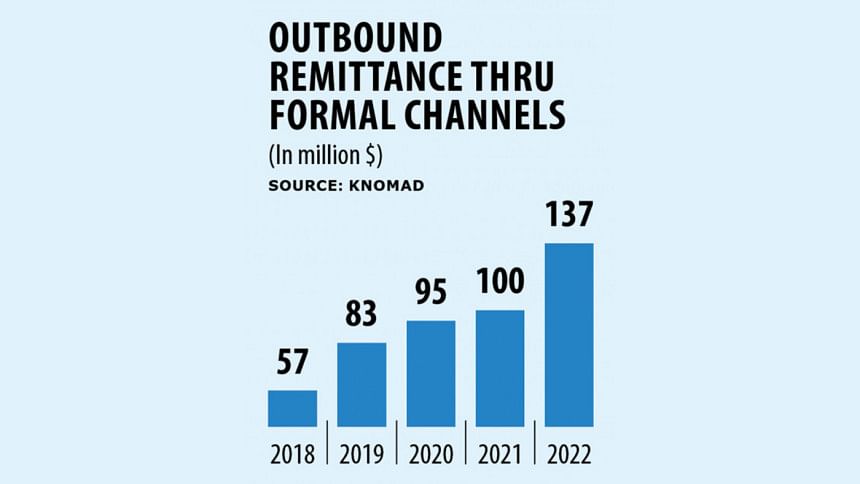 Foreigners working in Bangladesh sent home $137 million in 2022, World Bank data showed although analysts believe the exact figure would be much higher since many people from other nations are employed in the country without valid permits.
The outflow was up 37 per cent from a year ago when it stood at $100 million, according to the new estimate of the Global Knowledge Partnership on Migration and Development (KNOMAD), an initiative of the Washington-based lender.
The data captures the remittance that is sent through legal channels.
Local analysts were unanimous in their opinions that the volume of remittance going out of the country would be way higher than the figure reported by the KNOMAD.
For example, Selim Raihan, a professor at the department of economics at the University of Dhaka, thinks the outward remittance through informal channels might be at least 20 times higher than what is officially reported.
"Many Indians, Pakistanis and Sri Lankans as well as some Chinese work in Bangladesh without any proper work permits. They send money through informal channels as they can't use formal platforms."
The exact number of foreigners working in Bangladesh is hard to come by as the figures are not published in a coordinated way and many government agencies grant work permits to the citizen of other countries.
One of them is the Bangladesh Investment Development Authority, which approved 15,128 applications seeking work permits in 2021-22, up 87.32 per cent from the previous year.
The applicants came from 106 countries. The permits are for foreign nationals who are engaged in Bida-registered industrial projects, commercial offices, and other organisations.
In 2020, the Transparency International Bangladesh (TIB) said an estimated $3.1 billion was siphoned away every year by foreign nationals employed in the country.
Iftekharuzzaman, executive director of the TIB, said KNOMAD data is just a peanut compared to the financial outflow from Bangladesh, especially if illicit financial transfers are taken into consideration.
Referring to the TIB study, he said the overwhelming majority of about 250,000 expatriates working mostly in various private sector entities were employed without mandatory appropriate visas and work permits.
"Collusive non-compliance and corrupt practices taking advantage of procedural loopholes and complications, deficits of coordination, and lack of capacity and commitment of a section of the relevant stakeholders have institutionalised illegality in the sector."
Mamun Rashid, an economic analyst, says against the popular belief or unsupported media reports of $10 billion being remitted on account of foreign professional payments, $137 million seems to be low.
"This tells us money may be going through informal channels," he said, adding that the ratio of foreigners working without required permits might be higher in the manufacturing sector compared to the service sector.
In 2017, Washington-based think-tank Pew Research Center said $992 million was estimated to have remitted from Bangladesh to China, $276 million to Indonesia, $202 million to Malaysia, and $126 million to India.
Other notable recipients were Vietnam, the United States, Nepal, Thailand, Japan, Norway, Myanmar, the United Kingdom, and Brazil.
Ahsan H Mansur, executive director of the Policy Research Institute of Bangladesh, described the outbound remittance estimated by the KNOMAD as the "misrepresentation of fact".
He said this is bound to happen whenever there is any restrictions, whether it is for trade payments or service payments.
"This has become an underground system and it is flourishing since there is a demand for skilled professionals and managers."
Mansur, also a former official of the International Monetary Fund, said salaries and other benefits paid to foreign workers are current account convertibility payments and Bangladesh agreed to allow it nearly two decades ago.
But the country is trying to rein in the flow of outbound remittance through work permission mechanism, he said.
The transfer of a huge amount of money through unofficial channels carries a cost for the economy.
One is the revenue loss that the government could have been earned in the form of income taxes. Similarly, Bangladesh does not know the size of the net remittance, the gap between funds coming in and going out.
"If we don't have the right number, we will not be able to take the right policy decision on how to raise remittance inflows to Bangladesh," said Mansur.
Last year, Bangladesh received $21.50 billion in remittances, down more than 3 per cent from $22.21 billion a year ago, KNOMAD data showed.
Naser Ezaz Bijoy, president of the Foreign Investors' Chamber of Commerce & Industry, said companies that are hiring foreign workers should do so in compliance with laws, while regulators may think of beefing up enforcement.
At the same time, the process to avail work permits should be simplified so that foreigners feel encouraged to seek the approval, he said.