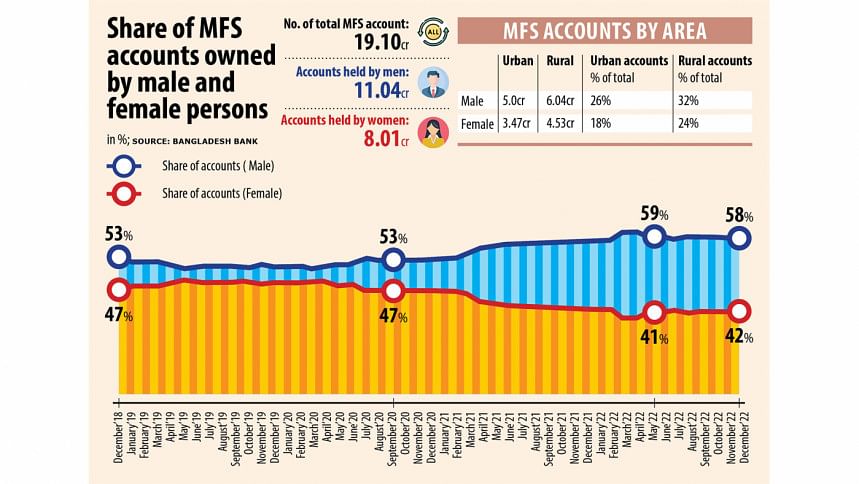 Although the number of mobile financial service (MFS) accounts has grown in Bangladesh, the ratio of accounts held by women is falling, which, analysts say, is not desirable as increased participation of female is necessary for digital financial inclusion and gender equality.
Bangladesh Bank data showed that the number of MFS accounts stood at 19.10 crore at the end of December last year with women holding 8.01 crore accounts or 42 per cent of the total.
In contrast, the total number of MFS accounts held by men stood at 11.04 crore.
Four years ago, in December 2018, when the total number of MFS accounts was 6.76 crore, women held 47 per cent of the total.
In Bangladesh, MFS has boomed since its launch in 2011.
Today, MFS records nearly Tk 3,000 crore daily transactions, which was Tk 1,228 crore daily in 2019, according to BB data.
"The increase in the number of MFS accounts is a good sign. But the decline in the ratio of MFS accounts held by women is not expected from the perspective of financial inclusion and gender equality," said Selim Raihan, executive director of the South Asian Network on Economic Modeling.
Also, a professor of economics at Dhaka University, he said many banks have introduced products for women but they cannot reach out to the targeted users.
"There may be issues of access and digital literacy. The problems should be identified to ensure increased participation of women."
Shah Md Ahsan Habib, a professor at the Bangladesh Institute of Bank Management, thinks that the decline means that the country is not giving a special effort to promote women's financial inclusion through MFS.
"We need positive discrimination in favour of women. Both favourable policy and products are needed," he said.
Muhammad Zahidul Islam, head of public communication at Nagad, said it has been noticed that only male members of many families, especially in rural and suburban regions, use mobile phones and avail MFS services, while strict parenting and social disapproval continue to limit female members' access to mobile technology.
"In some cases, we see women open MFS accounts using SIMs registered under the name of their male family members because of a social stigma of disclosing the identity of mobile users. That is why such MFS accounts are shown being held by men."
Islam said although the overall ratio of MFS accounts held by women is on the downturn, the number of Nagad accounts held by females is much higher than the industry average.
"This reflects that we are on the right track."
Taking all such issues into consideration, Nagad is working hard to expedite the financial inclusion of women, in particular.
"We believe that the country's overall development will not be possible without the active participation of women."
Atiur Rahman, a former governor of the Bangladesh Bank, said MFS accounts held by women rose during the Covid-19 pandemic when the wages of garment workers were disbursed through the mobile banking system.
"It may be that a portion of women has switched to agent banking," he said, adding that after the recovery from the pandemic, the mobility of men from rural to urban areas has increased.
When men migrate to urban areas for income, they open an MFS account to send money home.
"This may be another reason for the drop in the ratio of MFS accounts held by females," said Rahman.
Shamsuddin Haider Dalim, head of corporate communications at bKash, said the largest MFS provider is constantly creating awareness to accelerate access and usage of financial services among women.
In the last 12 years, MFS providers like bKash have made all-out efforts to include women in the financial system, giving them the freedom and independence to manage their daily financial transactions, he said.
Dalim referred to a study on the impact of mobile financial services based on a case of bKash by the Bangladesh Institute of Development Studies.
According to the study, mobile banking has contributed to women's freedom of movement, family decision-making, participation in income-generating activities, and ownership of jewellery and household savings.
Md Shamsuzzoha, deputy director for corporate affairs of upay, said the MFS provider has not seen any fall in women customers.
"A package designed for women is under consideration."