Their profit fell 19% but shariah-based lenders saw 26% profit surge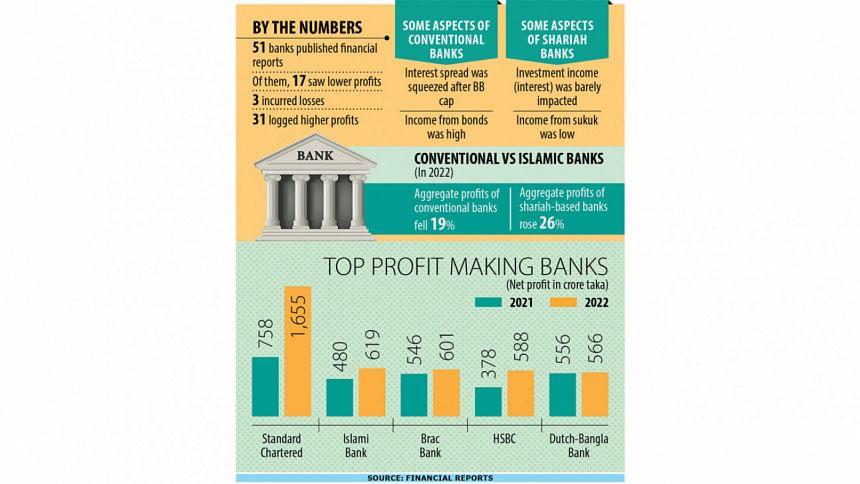 Conventional lenders in Bangladesh fell behind shariah-based banks in 2022 in terms of profit growth mainly due to the lower interest rate regime.
Last year, the combined profit of 41 conventional banks, including foreign and state-run lenders, fell 19 per cent year-on-year to Tk 7,020 crore, whereas 10 shariah-based banks' profit surged 26 per cent to Tk 2,432 crore, according to their financial reports.
The collective profit of the traditional lenders was dragged down by National Bank, which suffered a loss of Tk 3,260 crore alone in 2022. If NBL's loss is excluded, the profit of conventional banks would rise 17 per cent.
Anis A Khan, a former chairman of the Association of Bankers, Bangladesh, says the cost of funds for shariah-based banks is lower compared to their conventional counterparts. "This helps them log higher profits."
He said the belief of the people who deposit funds with shariah-based banks is that the Islamic lenders are interest-neutral, so savers are happy with whatever profit they get. "Traditional banks don't get this advantage."
The Bangladesh Bank has maintained a 9 per cent interest rate cap since April 2020.
The single-digit interest rate regime has been favourable for the shariah-compliant banks as their products and services are not based on interest rates. Rather, banks and their clients share the risks and rewards of a business transaction.
On the other hand, traditional banks have struggled since the interest rate ceiling was put in place three years ago as the spread — the difference between the interest rate charged by banks on loans and the interest rate paid by banks for deposits – has narrowed.
The interest income constitutes the main earnings for banks.
Like all lenders, Islamic banks faced liquidity challenges last year owing to economic uncertainty and a lower level of confidence among clients because of loan scams. So, their increase in profits has surprised Khan.
"It may be some of them did not keep provisions properly," said the former managing director of Mutual Trust Bank and IDLC Finance.
Among the conventional banks, aggregate profits of five state-run lenders — Sonali, Janata, Agrani, Rupali and Bangladesh Development Bank Ltd — dropped 23 per cent to Tk 713 crore in 2022. Profits doubled to Tk 3,156 crore for nine foreign banks.
Twenty-seven local private conventional banks posted a profit growth of 2.88 per cent to Tk 6,411 crore.
Conventional banks' profits have been hit by the ceiling on the lending rate as well as the 6 per cent deposit rate that led to the narrowing of the spread, said a top official of a conventional bank.
The central bank removed the deposit floor rate completely in January this year.
The senior banker said many banks faced a liquidity shortage because of the low deposit rate and many of them have had to offer a higher rate to woo funds, which drove down their net interest income.
"Due to the higher inflationary rate, the deposit rate has had to be increased. But the interest rate on most loans is still fixed at 9 per cent. So, the net interest income has squeezed."
In January 2023, the BB increased the lending rate cap for consumer credit to 12 per cent and removed caps on credit card loans. However, these categories represent only about 20 per cent of overall private sector credit in Bangladesh, according to a World Bank report.
The net interest income of the traditional banks edged up 1 per cent to Tk 14,131 crore in 2022 while the investment income (net interest income) of Islamic banks was up 5 per cent to Tk 9,386 crore.
The banker said instead of operating on the basis of a fixed interest rate, shariah-based banks run their operations based on deal-based investments. So, their profit growth has not been affected by the uncertainty in the local and global economy.
He said conventional banks' lower income from interests was offset slightly by the higher income from investments and commissions, fees and exchange incomes.
The income of most banks from investments grew at a double digit as they invested more in bonds and securities rather than giving out loans amid persisting economic slowdown. The revenue from commissions, fees and foreign exchange business more than doubled.
Among the banks, Standard Chartered Bangladesh posted the highest profit of Tk 1,655 crore in 2022. Islami Bank Bangladesh Ltd came second at Tk 619 crore. Third-placed Brac Bank clocked a profit of Tk 601 crore.
"The business principle that prioritises partnership and well-being of the people has impacted the bottom-line of shariah-compliant banks positively," said Zafar Alam, managing director of Social Islami Bank.
"This policy attracts more people and helps Islamic banks get more deposits," he said, adding that the income from remittance collection was higher in 2022.
Ahmed Shaheen, additional managing director of Eastern Bank, said many depositors who keep funds at shariah-based banks don't bother about the returns they get.
"Most of them only care about whether their money is safe or not. On the other hand, the depositors who keep funds with conventional banks pay heed to the interest rate they receive. So, the spread in the conventional banks is comparatively lower."