Runner Automobiles yesterday launched the country's first "Made in Bangladesh" autorickshaws for the local and foreign markets.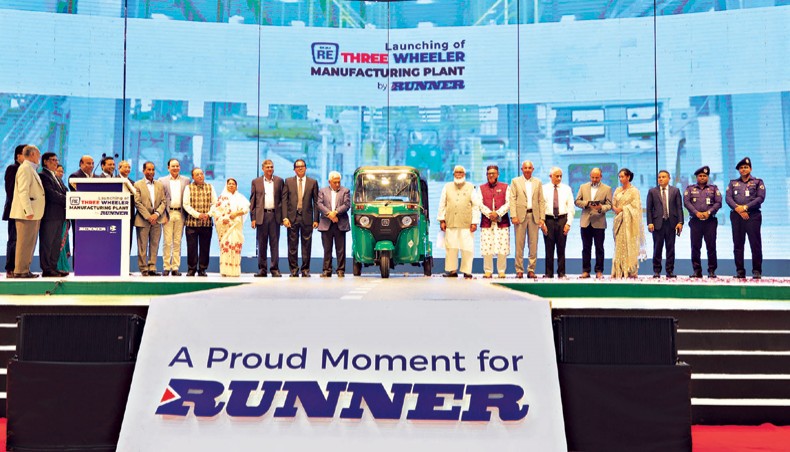 Runner Automobiles yesterday launched the country's first "Made in Bangladesh" autorickshaws for the local and foreign markets.
At least 70 per cent of the vehicle except for some components of the engine have been made locally through technical collaborations with Indian automaker Bajaj Auto, said Hafizur Rahman Khan, chairman of Runner Group.
Around 30,000 autorickshaws run by liquefied petroleum gas and compressed natural gas will be produced a year at Runner Automobiles' three-wheeler plant in Mymensingh's Bhaluka, he said at the launch.
Some 300 local and 400 foreign workers have already been employed for the 10-acre Runner factory established at a cost of about Tk 300 crore, Khan said.
"A few local organisations have also cooperated with us. This vehicle will help in transportation of the common mass along with creating more jobs."
"Through this, a domestic company for the first time brought a three-wheeler autorickshaw to the market after manufacturing it in the country," said Salman F Rahman, prime minister's adviser on private industries and investment, after inaugurating the plant.
Although the autorickshaws have been produced in the country, Bangladesh still has to import 20-30 per cent of the parts to make the three-wheeler, Rahman said.
"We want to be fully capable of manufacturing three-wheelers. Runner will fulfil this gap in future."
He said the government will extend all-out support for the expansion of the export-oriented automobile industry.
Domestic companies should adopt modern technologies to increase production and remain competitive, he said.
"Runner is the first manufacturer and exporter of motorcycles in Bangladesh," said Subir Kumar Chowdhury, managing director and CEO of Runner Automobiles.
"With the autorickshaw, we entered into the three-wheeler industry today. We hope we will be successful in this industry like motorcycles."
"This is not only the first three-wheeler factory in Bangladesh, but also the first Bajaj three-wheeler factory outside of India," said KS Grihapati, president of Bajaj Auto.
"We are excited to work with Runner. The organisation has already proved their capabilities."
He said Bajaj will contribute to the development of automobile industry in Bangladesh.
There are about five lakh three-wheelers in the country, but only one lakh are registered, said Abdul Matlub Ahmad, president of Bangladesh Automobiles Assemblers and Manufacturers Association and chairman of Nitol-Niloy Group.
"It becomes difficult to hold these vehicles accountable in case of an accident."
The government should take strong measures to ensure registration of all three-wheelers in the country, he said.
Source: The Daily Star