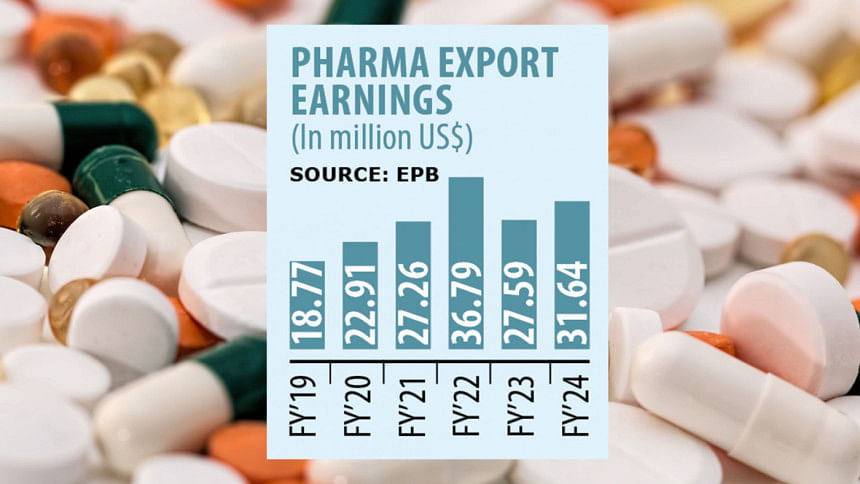 Pharmaceutical exports from Bangladesh grew nearly 15 percent year-on-year in the first two months of the current fiscal year as drug-makers secured international tenders, according to industry people. 
The manufacturers also said to have set a target to ship products by this month against the orders placed for the year in order to avoid disruptions stemming from any possible political unrest centring the upcoming general elections.
Buyers have also started to place higher orders as economies gradually recover from the impacts of global economic crises brought on by the Russia-Ukraine war.
Thus, medicine shipment fetched $31.64 million in July and August of 2023-24, data from the Export Promotion Bureau showed.
It came after exports declined in the last fiscal year.
Pharmaceutical exports from Bangladesh fell 7 percent year-on-year to $175.42 million in 2022-23 due to the impacts of global economic crises and subsequent US dollar shortage in most underdeveloped countries.
"Drug manufacturers have secured tenders in the importing countries while economic volatility is easing. This sent drug exports higher in the last two months," said Monjurul Alam, chief executive officer of Beacon Pharmaceuticals Ltd.
With Bangladesh's parliamentary elections due in January 2024, they want to deliver drugs by this month for which buyers placed orders to avoid any disruption to the supply chain, he said.
According to him, exports usually grow from May to October.
"But this year is different due to the general election. Everybody is ready to avoid any unexpected situation."
Challenges to businesses, however, have remained owing to the US dollar crunch, the war, difficulties in finding and securing new export destinations, and difficulties in opening letters of credit to import raw materials, he added.
The situation will not improve until the war ends, so the pharmaceuticals sector is just trying to keep its head above water, Alam added.
"The slight improvement in exports is not what manufacturers had predicted," said Wasim Haider, a senior manager of international business and marketing at Beximco Pharmaceuticals.
It is true that economies of major export destinations such as Nepal, Sri Lanka and Myanmar are recovering, which is prompting a gradual rise in purchase orders, he said.
Haider said exports are still not gaining pace because buyers in the US and the European Union are still offering lower prices than what the products are actually worth.
Renata Ltd, one of the top drug makers in Bangladesh, claimed it has been able to maintain the export growth target by expanding production units.
"We achieved around 60 percent growth in the last two months as we have got bulk orders from one country and made the shipments," said Ananta Saha, international business manager of the company.
According to him, Renata's international marketing team was frequently going on visits abroad and putting in the work which had led to the growth.
Renata's European subsidiary, Renata Pharmaceuticals (Ireland) Limited, has secured regulatory approval in the European Union and Germany to launch drugs for treating Parkinson disease.
"Thus, we are winning the global market," Saha noted.