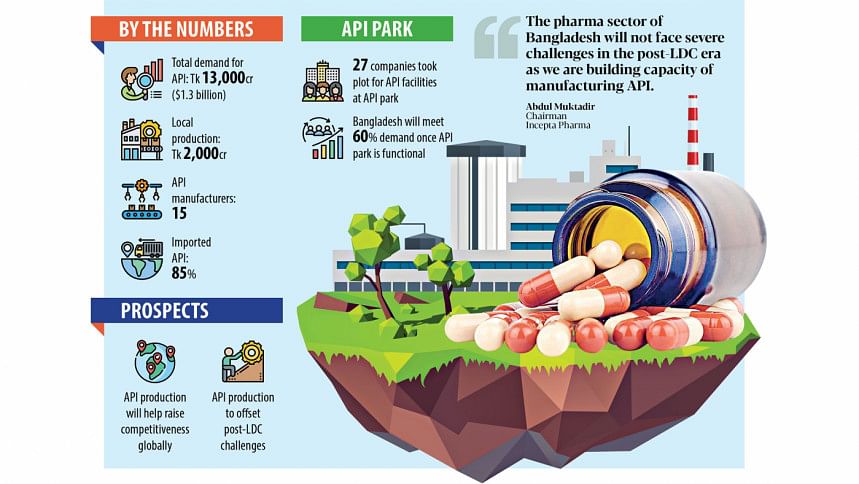 Pharmaceutical companies are gradually enhancing their capacity to produce the raw materials needed to make medicines, which will go on to reduce Bangladesh's over-reliance on imports and augment the country's competitive edge in the global market.
In the last 12 years, the value of active pharmaceutical ingredients (APIs) made in the country grew four times to more than Tk 2,000 crore thanks to the entry of more firms in the segment in recent years. It was about Tk 500 crore in 2010.
"The pharmaceuticals sector will not face severe challenges after the graduation of Bangladesh from the group of the least-developed countries in 2026 as we are building our capacity of making APIs," said Abdul Muktadir, chairman and managing director of Incepta Pharmaceuticals.
Currently, 15 firms, including Eskayef, Square, Beacon and Beximco, produce APIs, up from 10 a couple of years ago, said SM Shafiuzzaman, secretary-general of the Bangladesh Association of Pharmaceutical Industries, which represents 265 domestic drug-makers.
Local companies meet 10 per cent to 15 per cent of the annual demand for APIs, according to Monjurul Alam, director for global business development at Beacon Pharmaceuticals.
"We have a vast opportunity to invest in API manufacturing. This will allow the sector to compete in the global market."
He believes if APIs are produced in sufficient quantities, pharmaceutical companies will be able to buy them immediately. "This will reduce the lead time."
A significant development in API production will provide a huge gain to the pharmaceuticals industry in a country where 97 per cent of the demand for medicines is met through local manufacturing.
Although API production has not grown in keeping with the pharmaceutical sector, local companies produce high-quality raw materials, albeit on a limited scale, helping the drug industry add value to their products.
And Shafiuzzaman thinks Bangladesh would not be able to manufacture 100 per cent of the required APIs due to patent issues.
Currently, Bangladesh has to depend on imports to meet around 85 per cent of requirements for APIs. This costs the country about $1.3 billion annually.
The country has made major progress in completing the construction of the API Industrial Park in Gazaria of Munshiganj.
Syed Shahidul Islam, the immediate past project director of the park, said the physical development work of the initiative has been completed and 27 companies have been handed over plots for setting up factories.
Acme Laboratories, UniMed UniHealth Pharmaceuticals, Healthcare Pharmaceuticals, and Ibn Sina Pharmaceutical Industry have already set up their plants. Of them, Healthcare Pharmaceuticals is about to begin trial production.
"We are ready for commissioning," said Md Halimuzzaman, chief executive officer of Healthcare Pharmaceuticals.
A central waste treatment plant has been set up in the park at a cost of Tk 100 crore and this is about to be commissioned.
In Bangladesh, companies are also raising their capacity to manufacture finished formulation, which includes both small molecule synthetic drugs and complex biologics and vaccines.
And Muktadir believes that the rising API production would help the pharmaceuticals sector grow its share in the global generic drug market, valued about $400 billion.
Local companies export products to 157 countries in Asia, Africa, North America, South America and Europe.
Medicines exports rose more than 11 per cent year-on-year to $188 million in 2021-22, data from the Export Promotion Bureau showed. The pharmaceuticals exports have grown almost three folds in the last seven years.
Pharma-makers also think that Bangladesh should focus on potential API markets across the world. The global market is estimated to reach $216 billion in 2027.
"Diplomatic efforts should be initiated so that once API is available, Bangladesh can have a ready market," said Muktadir.
Beacon Pharmaceuticals' Alam said there was no need to worry about the challenges Bangladesh would face in the post-LDC era.
"This is because we have already introduced pharma products in the local market and these products should be considered as prior art."
Prior art is any evidence that one's invention is already known.