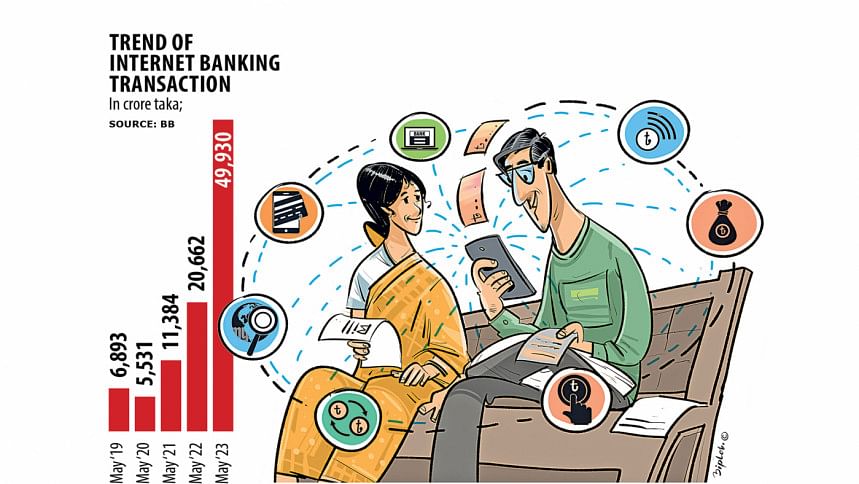 Internet banking transactions reached a record high amount of nearly Tk 50,000 crore in May, signifying the enhanced cost and time savings and convenience enabled over visits to brick-and-mortar branches for a growing number of bank account holders.
The transactions soared 142 per cent year-on-year to Tk 49,930 crore, showed the latest Bangladesh Bank (BB) data.
On a month-on-month basis, it was a growth of 12 per cent.
This is also threefold the amount recorded in the whole of fiscal year 2014-15.
The all-time high also reflects customers increasingly switching to electronic fund transfers and banks focusing investments on developing technology to provide faster and hassle-free services.
"We see a spectacular increase in internet banking because it helps people do banking staying at home," said Md Mezbaul Haque, executive director of the BB.
"We are promoting digital transactions and banks are also showing interest as going electronic is cheaper than conducting transactions through ATMs," he said.
"Many banks did not have any mobile app. Now more than 40 banks have apps to facilitate customers in carrying out banking digitally," he added.
Now customer literacy and awareness are needed as people are showing interest and banks are promoting electronic banking, said Haque.
To encourage digital banking, the central bank has extended regulatory support from time to time by increasing transaction limits for clients.
The rollout of Bangladesh Real Time Gross Settlement (BD-RTGS) and Bangladesh Electronic Funds Transfer Network (BEFTN) by the BB and increased use of smartphones also helped popularise digital banking, said bankers earlier.
There has been a massive growth in utility bill payments and mobile top-ups through digital banking, said Mohammad Ali, managing director and CEO of Pubali Bank Ltd.
"Paying utility bills was a hassle. Now many people pay bills through mobile financial services by transferring money from their bank accounts," he said.
"People are switching to online transactions at lightning speed…People are paying electronically for their purchases too," he said.
Pubali Bank Ltd, one of the oldest and largest banks, recorded an average growth of 63 per cent year-on-year in digital transactions over the last five years, he said.
Ali, however, said customers do still need to come to banks to process their cheques.
They will not need to come to banks if the central bank develops a unified system or app so that account holders can upload photos of their cheques for settlement electronically, he said.
Banks are introducing new products as digital banking is growing, said Emranul Huq, managing director and CEO of Dhaka Bank Ltd.
"The growth of digital banking has sped up as banks are becoming connected with mobile financial service (MFS) providers," he said.
"Once customers used to transfer funds to MFS. Now deposits are also coming from MFS. This has become a big area," he said.
Dhaka Bank Ltd has introduced nano deposits and registered an increase in the opening of accounts, he added.
On the risks of cyberattacks and fraud, Huq said banks were investing to build firewalls to ensure digital security and protect their systems.
The BB issued an ICT risk management guideline for banks, abiding by which will require banks to make a lot of investment, he said.
Customers' literacy and awareness is also needed, he said.
Source: The Daily Star