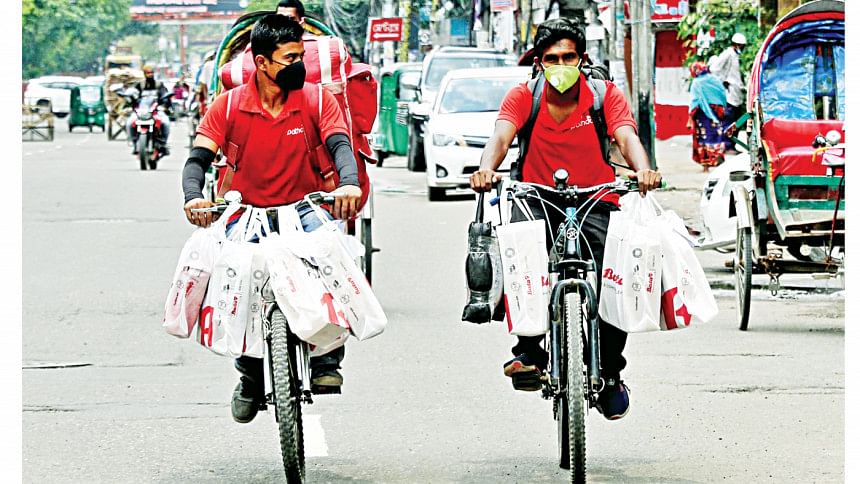 Bangladesh has seen tremendous growth in its gig economy over the past decade as nearly a million people in the country now provide online freelancing, outsourcing, ride sharing and delivery services, according to a paper presented at a seminar yesterday.
Despite the expansion, the interests of workers in the gig economy, a labour market that relies heavily on temporary and part-time positions filled by independent contractors and freelancers rather than full-time employees, remains unprotected in absence of policies.
Lack of quality employment, insecurity of jobs and absence of insurance against injury during work are the major issues for workers in the gig economy.
"The job contracts of many platform workers are ambiguous," said Mohammad Mahfuz Kabir, research director of the Bangladesh Institute of International and Strategic Studies (BIISS), while presenting the paper on challenges and opportunities for the gig economy in Bangladesh.
BIISS organised the event at its auditorium, where Mashiur Rahman, economic affairs adviser to the prime minister, spoke among others. Zaidi Sattar, chairman of the Policy Research Institute of Bangladesh, chaired the seminar.
In his presentation, Kabir said the expansion of the gig economy as seen from the growth ridesharing in the country, food and parcel delivery, and freelancing has created jobs. But this has not "diminished worry" among workers.
"Massive variations were found in the earnings of gig workers, both within and between platforms," he said citing a study.
Kabir then said the ridesharing industry in Bangladesh is worth $259 million and the market value of ridesharing startups in the country would reach $1 billion in the next five to seven years. Also, the remote platform economy or cloud-work generates $100 million annually.
"The platform economy model continues to attract workers as they feel the sector can offer cash flow and flexible work hours," he added.
Internet access and the availability of smartphones have played a vital role in the growth and expansion of the gig economy in Bangladesh.
As the sector come of Bangladeshi gig economy has come of age, polices such as data protection, freedom of association and collective bargaining, occupational safety and social security for protection of workers' interest are needed.
"If any ride sharing service providers fall into any accident, there is no insurance protection for the person. In case of delivery, similar would be found," Kabir said, adding that some platform-based companies provide insurance.
But in case of Bangladesh, it is yet seen.
Major General Sheikh Pasha Habib Uddin, director general of the BIISS, said the emergence of the gig economy will be beneficial for countries like Bangladesh.
He said the gig economy has the potential to become a growth engine for the country by producing jobs for many people with an appropriate mix of policies, digital infrastructure and supporting services.
However, there are some challenges along the way as well, he said, adding that Bangladeshi freelancers need to work through other countries' digital platform as the country does not have its own gig market.
Due to this reason, Bangladeshi freelancers need to spend more time for getting work orders.
Secondly, the payment methods of foreign websites seem difficult for Bangladeshi freelancers, particularly those living in rural areas, Uddin added.
Wahid Sharif, president of the Bangladesh Association of Contact Center and Outsourcing, said the largest markets for outsourcing is the United States, Europe and Japan.
He went on to say that the services outsourcing market is very big and there is opportunity for Bangladesh in this regard but what is needed are the right policies and support.
Still, there are other challenges.
"Many graduates are coming up but they are not skilled. They cannot even write and speak properly in Bangla," he said while stressing on the need for improving communication skills.
"Country branding is important. The international community needs to know Bangladesh is an important destination," Sharif added.
In another presentation, Mike Kazi, founder and chief executive officer of Apex DMIT Ltd, said language problems and communication skills are major challenges.
He also said there is a shortage of skilled manpower in specific domains, such as financial, medical, graphics and artificial intelligence.
Source: The Daily Star