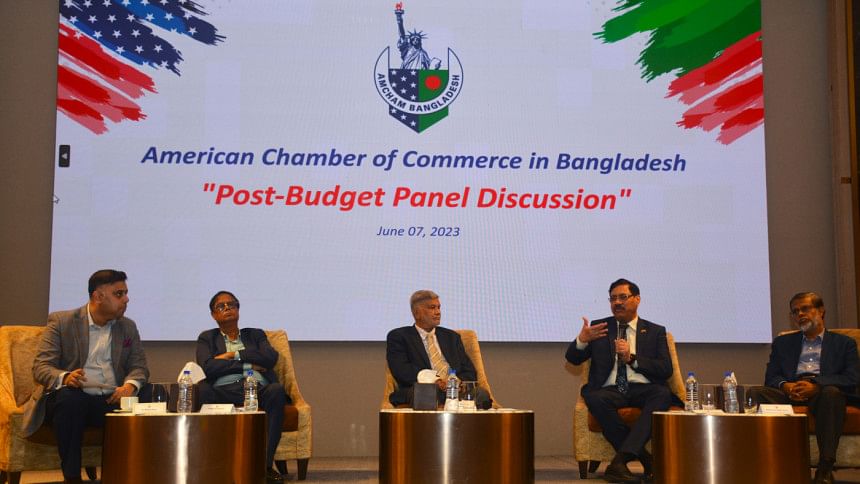 No significant economic growth is possible in Bangladesh without a satisfactory level of foreign exchange reserves, said Syed Ershad Ahmed, president the American Chamber of Commerce in Bangladesh (AmCham), yesterday.
So, instead of restricting imports, the country should speed up the implementation of foreign-funded projects, he said.
He made the comments at a post-budget panel discussion organised by the AmCham Bangladesh in the capital's Sheraton Hotel.
His observation comes as the forex reserve dipped to $29.92 billion on May 31, down nearly 29 per cent from $42.20 billion recorded on the same day last year, Bangladesh Bank data showed.
Ahmed also said: "It is a critical issue for developing countries that rely on external borrowing to drive economic growth."
"We recommend the adoption of prudent central bank management strategies that promote transparency, accountability and fiscal discipline in this sector."
The deficit in the financial account of the balance of payments is a matter of serious concern as it reduces the reserves of foreign exchanges and impacts the whole economy, said speakers.
A financial account is a component of a country's balance of payments that covers claims on or liabilities to nonresidents concerning financial assets.
"A depletion of the exchange reserves has been a matter of concern throughout the current financial year despite compression in imports," said Ahsan H Mansur, executive director of the Policy Research Institute.
It is still uncertain if the end-June floor on the net forex reserves of $24 billion established under the loan programme of the International Monetary Fund (IMF) can be achieved, he said.
"Are we there? Are we able to keep it? We don't know as the Bangladesh Bank does not publish the net foreign exchange reserve data."
Mansur said since the country is already facing a dollar crunch, electricity outage is not unusual as adequate coal and oil could not be imported because of the USD crisis.
According to Mansur, the central bank is trying to keep the reserve at a certain level as international organisations and correspondent banks are looking at whether the reserve target can be achieved.
Planning Minister MA Mannan said both ongoing load-shedding and inflationary pressure are intolerable.
"The prime minister has directed taking necessary measures to resolve these two problems."
Mannan said the government had expected that inflation would fall.
"Rather, it has increased. It is disappointing."
Inflation in Bangladesh surged to 9.94 per cent in May, which is the highest in the past one decade, according to the Bangladesh Bureau of Statistics. The previous high in recent times was recorded in August last year when the Consumer Price Index soared 9.52 per cent.
The minister hoped that inflation would come down gradually.
"Everything that has fuelled the inflation is not under the control of the government."
Mansur said inflation is accelerating in Bangladesh at a time when global commodity prices are declining.
"No monetary policy measure has been taken to fight inflation as of now."