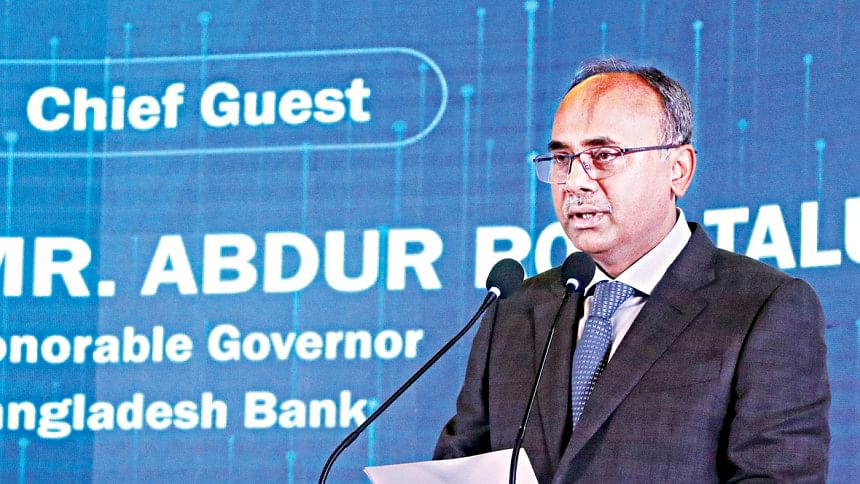 Corporate governance and non-performing loans are now the burning issues in the country's banking sector, said Bangladesh Bank Governor Abdur Rouf Talukder yesterday.
Only enforcing prudential guidelines and strong rules by top management, like chief executive officers of banks, may solve the NPL issue, he said while inaugurating a summit.
The two-day summit titled "Banking on Digital Transformation" was organised by the Association of Bankers, Bangladesh (ABB) at Pan Pacific Sonargaon Dhaka.
"We need to bring in cultural changes and enforce ethics and good practices in the banking sector. So training and proper education should be offered to the workforce," he said.
Default loans in the banking sector increased 16.8 per cent year-on-year to Tk 120,656 crore in 2022.
"Not only are we emphasising on digitalising the existing legacy system, but soon we will introduce a digital bank in the country," he said.
The central bank is also planning to introduce an online and real-time based credit scoring system very soon, said Talukder.
"We are very close to issuing our own national debit card," he said.
There will be newer risks with newer business models. When banks are getting bigger across diverse jurisdictions, they need to address what kind of risks they are facing with the new business models, he said.
"A good governance framework and effective risk and compliance will help banks keep a safe distance from risks," Talukder said.
The two-day event brought together more than 150 participants from Bangladesh's 46 commercial banks, aiming to explore the digital transformation journey of the banking industry in the country.
Banks worldwide were now embarking on a digital transformation journey in response to customers' demand for greater convenience and Bangladeshi banks are no exception, said Selim RF Hussain, chairman of the ABB.
Banks in Bangladesh are investing heavily in building a robust IT infrastructure, including core banking and card systems, ATMs, internet banking, digital apps, and various digital banking solutions, to cater to evolving customer needs, he said.
"We are in the age of the 4th industrial revolution, and technology is challenging the status quo and changing the banking landscape every day," he said.
"We must align our people to adopt new ways of doing things using technology and leaving behind traditional methods," he added.
Joydeep K Roy, a partner at PricewaterhouseCoopers, presented a paper styled "The next banking evolution in Bangladesh – Driven by digital transformation" at the event.
In 2021, around 23 per cent of the population in Bangladesh aged above 15 years did not have a bank account because of geographical barriers, he said.
In addition, only 16.3 per cent of the population in Bangladesh aged above 15 had borrowed any money from banks or other formal financial institutions, he said.